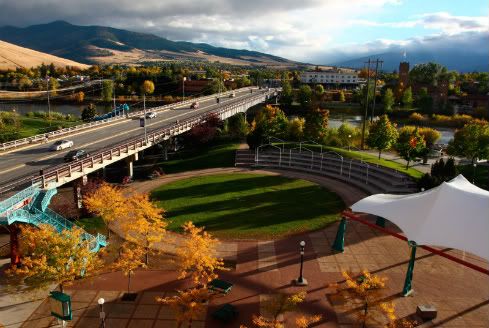 This past summer I received a message from a college friend who I had not spoken with in 20 years. The message read simply, "moving to Missoula in two weeks, give me a call." Robert Gibbons from Brooklyn was coming to Missoula, Montana. A father of six, he was relocating to Missoula ahead of his family to get settled in a new job. Only after establishing himself would his family join him. To prove to his family that he hadn't lost his mind, Rob drove cross-country with two of his daughters, Molly and Maggie, who would report back to their mother about the wonders of Missoula.
Even though college was a distant memory, when Rob and his daughters pulled up to our house I realized that time had not worn away our friendship even as it had changed our physical appearances. We warmly embraced and after catching up, I told Rob what I always tell friends and relatives who visit from back east. I said, bluntly, that he should prepare himself for how nice and kind people in Missoula are when compared to those mired in the hustle and bustle of New York. He gave me the usual response when friends of mine visit; they are never convinced. Experience had taught him otherwise.
In the early morning, I helped Rob search for an apartment. Afterward, as the late summer day heated up, my family invited Rob and his daughters for an inner tube float down the Clark Fork River. As we put in just outside of East Missoula, I casually mentioned that the route would take us by a bald eagle's nest and we just might get a glimpse of our national symbol. Maggie immediately grew excited. Rob informed me that he and Maggie spent many nights sitting on their back porch searching for eagles that never appeared. Within five minutes an adult bald eagle flew directly over our heads, causing his daughter to shout in delight, "This is the best place ever!" Indeed at that moment I couldn't argue with her. But it got worse.
As we pulled up to the takeout, I misjudged the speed of the river. Rob grabbed a hold of Molly's inner tube and his own as we spun toward the shore. He quickly stood up in the fast-moving water and guided his daughter to safety. But as Rob used his left hand to hold onto his inner tube, his wedding ring, the symbol of a 15-year marriage to the love of his life, slipped from his finger and fell into the Clark Fork.
My wife quickly drove home and grabbed our son's snorkle mask, and we searched the nearby stream for Rob's ring. Unfortunately, the current was too strong, the water too cold, and the late afternoon shadows obscured the river bed. Resigned, we gave up the search. Rob called his wife and told her the news. I don't think she was pleased.
The next day, my family left for a trip on the Smith River and Rob's children returned to New York later that week. When I returned there was a message from Rob asking me to call him when I had the chance. The first words out of his mouth were, "What do you think of Charlie B's?" I told him I thought it was a fine place to grab a pint. Rob then proceeded to tell me his story.
At Charlie B's, Rob had struck up a conversation with the patron sitting next to him, John. They shared the usual chitchat so common in bars, and then John asked him what he thought of Missoula. Rob said he liked it all right but that it hadn't been the best of weeks. He proceeded to tell John the story of his lost ring. John listened intently and could have easily said, "That's a bummer, sorry man." But because he was so moved by Rob's story he didn't simply share in Rob's grief, instead he said, "Well you know I am a bit of a geologist and I scuba dive, I would be happy to scour that river for you and locate your ring. I promise you I will find it." Robert couldn't believe his ears, that someone he just met, a complete stranger really, would offer such a thing. And then Rob did something he wasn't expecting: He cried.
The next day the two met and did just as John had promised; they scoured the river for hours. Even in the height of summer the Clark Fork River runs cold. To avoid hypothermia, John had to leave the river every half hour and run down the Clark Fork trail to warm up before heading back into the stream. Rob sat dumbfounded by this man's dedication. They tried for two days and could not locate the ring. Rob left to conduct interviews in Helena, but before leaving told John that he was certain the ring was near where they were searching. He also told John that there was an inscription on the inside of the ring that would identify it as his and Mary's wedding ring. But, perhaps resigned, he never told John what the inscription said.
Five days passed as Rob sat in Helena screening applicants. In between interviews he received an astonishing text with words he recognized immediately: "How Lucky We Are." Rob stared at his phone in disbelief. John had found his wedding ring.
It wasn't easy. He spent several hours over the course of five days searching the waters where Rob indicated the ring had fallen. John spent more than 10 hours in the fast-moving, cold waters of the Clark Fork River, separating bits of sand, searching among the rocks, and found my friend's ring. As I sit here writing this I am still in awe.
As Rob retold the story I found myself getting emotional, too, but for a different reason. I kept thinking how the inscription on the inside of his ring perfectly embodies how I feel about Missoula.
How lucky we are to live in a town where a total stranger will do something extraordinary for someone he just met.
How lucky we are to live in a place where people help one another out of kindness and compassion, and not for monetary compensation.
How lucky we are to live in a community where we may have different backgrounds, beliefs and values but we still reach out to one another.
And how lucky Missoula is to have people like John Thayer living among us. Thanks to John's kindness, compassion and perseverance, a lot of perseverance, I am able to tell you this story. John is truly the hero, though I don't think he believes that; he was just helping out, doing what anyone would have done. I am not so sure.
I am not saying that compassion is a trait only found in Missoula. I believe we are all compassionate on some level. Missoula does not make us compassionate, we already are, but maybe there is something about Missoula that offers us ways to share that compassion. It is one of the primary reasons my wife and I love to call Missoula, home.
By Kevin Ritchlin of Missoula. (Printed in the Missoulian OpEd Section)